Atelier Carvalho Bernau is a design studio based in Porto, Portugal. The atelier was originally established in 2005 by Susana Carvalho and Kai Bernau in The Hague, the Netherlands. We mainly work for the culture and publishing fields, both locally and internationally.
We value long-term relationships where commissioners become collaborators, or even accomplices, and where we each contribute domain knowledge and experience to move towards shared goals.
We maintain a flexible and rich network of professionals who work with us whenever the job requires: researchers, editors, curators, photographers, illustrators and programmers. We manage our time between commissioned projects, teaching and self-initiated projects.
Approach
Atelier Carvalho Bernau's focus is on reading* experiences across traditional, current and future media – from typefaces to user experience.
To that end, we develop and art-direct book and editorial design, typography, typeface design, web and interaction design, concept development and content strategy and research.
We see any assignment as an opportunity to question the state and understanding of design, and the roles it can play in society: each project is a tight-rope walk between applied realism and free-form research.
We give form to meaning. Content is as important as form, and we don't mind design that is invisible every once in a while, and lets things speak for themselves.
* for a rather wide-ranging definition of "reading".
Contact
Atelier Carvalho Bernau
4200-448 Porto, Portugal
+31 649 88 98 08 Susana 🇳🇱
+31 62 44 77 057 Kai 🇳🇱
+351 91 402 30 56 Susana 🇵🇹
+351 91 402 30 54 Kai 🇵🇹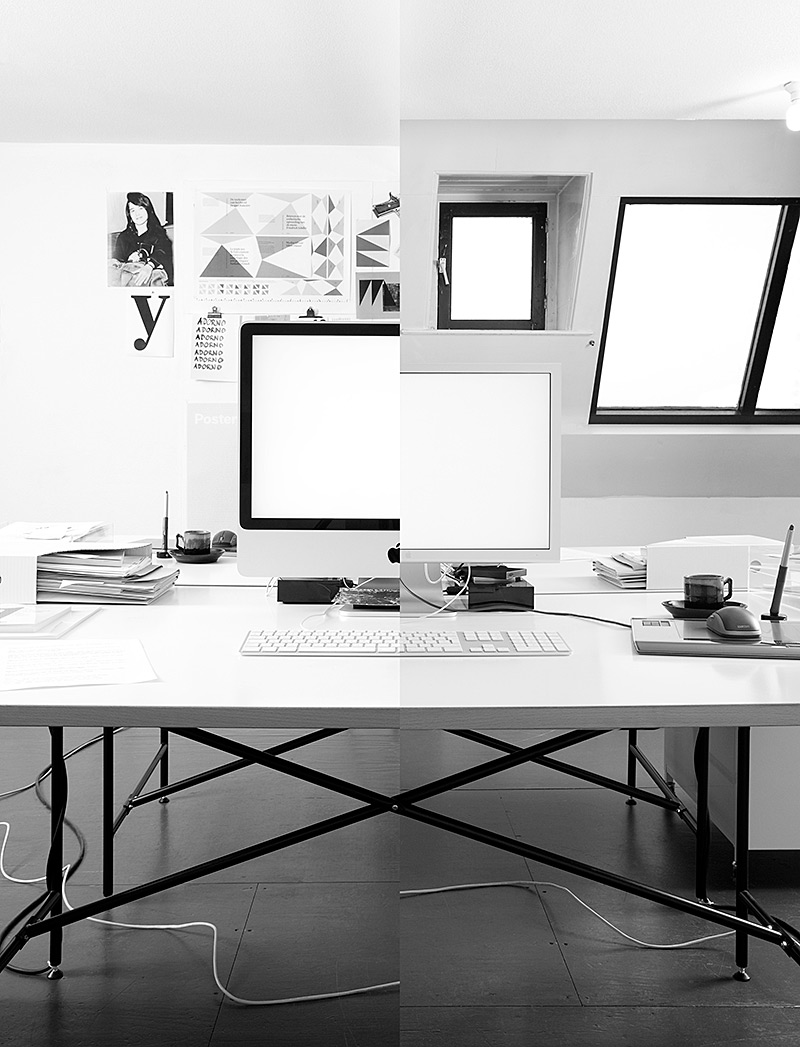 Clients (selection)
Brill Uitgevers, Leiden
Baumeister Magazin / Callwey Verlag, Munich
Comme des Garçons, Tokyo
Commercial Type, New York/London
Culturgest, Lisbon
Esquire UK, London
Esquire US, New York
HBO, New York
Harvard Art Museums, Cambridge/MA
House Industries, Yorklyn/DE
Internazionale, Rome
Mark Porter Associates, London
Marsèll, Milan
Midway Art, Minneapolis
Mumok Museum Moderner Kunst Stiftung Ludwig, Vienna
Munich Re Group, Munich
Museu Villa dei Cedri, Bellinzona (CH)
Museum Villa Stuck, Munich
New York Times Magazine, New York
Octavo publicaties, Amsterdam
Phaidon Publishers, London
Prix de Rome, Amsterdam
Royal Palace, Amsterdam
Sandberg Instituut, Amsterdam
Serpentine Galleries, London
Stroom, The Hague
Typotheque, The Hague
University of Warwick
Veem, Amsterdam
Verlag der Buchhandlung Walther König, Cologne
W139, Amsterdam
Works That Work Magazine, The Hague
Witte de With, Rotterdam
Exhibitions (selection)
Designing Tools, Weltformat Festival, Lucerne (2019)
Designs of the Year (Works That Work Magazine), Design Museum London (2014)
This is the school and the school is many things, Royal Academy, The Hague (2013)
Split Fountain, The Physics Room, Auckland, New Zealand (2013)
Millennium Magazines, MoMA, New York (2013)
Open Books, Royal College of Art, London (2011)
Typopass – Critical design and conceptual typography, Dorottya Gallery, Budapest (2009)
10 years of Stroom prize laureates, Royal Academy, The Hague (2007)
Paraat/Nieuwe oogst collective exhibition, Gallery W139, Amsterdam (2005)
Neutrality at tangential programme, ExperimentaDesign biennial, Lisbon (2005)
Publications (selection)
Favorite Typefaces of 2016: Algebra, Typographica (2017)
AddMagazine, Belgium (2016)
Novum, Germany (2016)
Favorite Typefaces of 2015: Neutral, Typographica (2016)
Page, Germany (2015)
PLI Arte & Design, Portugal (2013)
Favorite Typefaces of 2012: Atlas Typewriter, Typographica (2013)
Favorite Typefaces of 2012: Atlas Grotesk , Typographica (2013)
DOC Magazin (FH München), Germany (2012)
"The Future of Type Design — Kai Bernau & Nikola Djurek", Print Magazine, USA (2011)
"Under cover: Atelier Carvalho Bernau & Octavo publicaties", The New Yorker, Book Blog, USA (2011)
Form No. 238, Germany (2011)
idPure No. 25, Switzerland (2011)
Creative Review, "The Type Annual", UK (2011)
Graphic No. 16, Korea (2010)
Idea No. 343, Japan (2010)
Blue design #8, Portugal (2009)
étapes #159, France (2008)
Icon #40 and #61, UK (2008)
"Future Talents - The Graduate Directory", Wallpaper*, UK (2008)
"Best fonts of 2007", Grafik, UK. (2008)
Graphic magazine, UK (2007) (yes, it's a different one)
"Type Design special issue", idPure No. 12, Switzerland (2007)
identity matters, Netherlands (2006)
Page, Germany (2006)
Teaching
Susana is taking a break from teaching after 10 years of graphic design in the Graphic Design BA course at the Royal Academy of Arts, The Hague; she also previously taught typography in the BA programme Graphic Design at ArtEz Academy, Arnhem.
Kai teaches type design, at the MATD Master of Type Design at Écal in Lausanne.
We have lectured and set workshops at the Faculty of Fine Arts of the University of Lisbon, Tÿpo St. Gallen, the Typographic Society in Vienna, the Danish School of Media and Journalism, ArtEz Arnhem, MICA Baltimore, ELISAVA in Barcelona, and many many others.
No Internships
Past interns:
Eline Makker, Jonas Hegi, Bernd Volmer, Søren Wibroe, David Ortiz, Aaron Harris, Hugo Marucco, Ohri Ogi. Thank you, folks! ♥

External Validation
HERE: A World Poem by Tishani Doshi was selected as one of the Best Verzorgde Boeken (Dutch Best Designed Books) 2021.
HERE also received a Certificate of Typographic Excellence from Type Directors Club New York, 2021.
Irma Blank: Blank won silver medal at Best Portuguese Books 2019
Works That Work magazine nominated at Designs of the Year 2014 at Design Museum London
Documentation Subsidy, Stroom Den Haag, 2013
Practice subsidy by Fonds BKVK, 2012
Documentation Subsidy, Stroom Den Haag, 2010
Project subsidy by Fonds BKVK, 2008
Documentation Subsidy, Stroom Den Haag, 2005
Colophon
This website and the works shown here are Copyright © 2005 – 2023 Atelier Carvalho Bernau
This current version of our website is online since March 2014.
Principal photography on this site is by Nadine Stijns. Some photography by us.
Built by Atelier Carvalho Bernau, based on Emil Olsson's Hi-Response.
The typefaces used are Atlas Typewriter (everywhere), designed by Susana and Kai, and Lyon Display (in the Current Affairs section), designed by Kai. Both are available from Commercial Type.