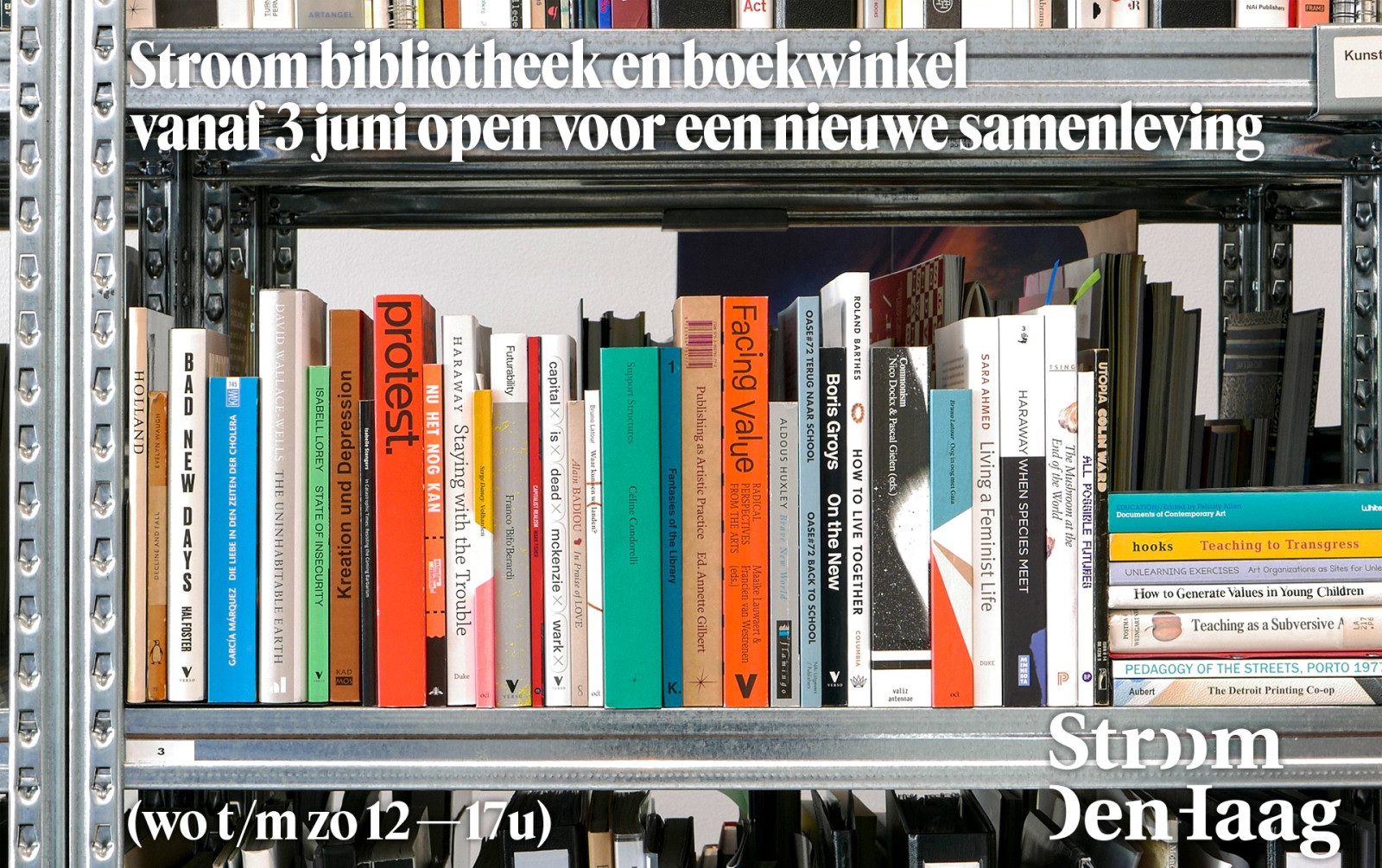 Open voor een nieuwe samenleving
Stroom library and bookstore — open for a new society from 3 June!
Our friends at Stroom Den Haag asked us for a campaign to announce the reopening of their library and bookstore after the Covid-19 lockdowns of spring 2020.
Libraries are one of the last bastions of progressive ideas: widely accessible, they offer far more than just books — they offer peace, help, expertise, a space to learn, they offer opportunities. And we thought about the opportunities that the current situation may show us: de-forming opinions, un-learning patterns, dis-establishing structures.
Prototyping some ideas at home, we quickly realised that we wanted to tell this hopeful idea as a story in book spines.
Stroom's librarian Lidwien received us on a Saturday, so we didn't want to waste time gathering the same story together from books on their shelves, and brought our own books, to which she made a few very keen additions. Thank you Lidwien!
Bibliography:
Decline and Fall
Evelyn Waugh
Penguin
Bad New Days. Art, Criticism, Emergency
Hal Foster
Verso books 2015
Love in the Time of Cholera 
Gabriel Garcia Marquez
German translation by Dagmar Ploetz: Die Liebe in den Zeiten der Cholera.
Kiepenheuer & Witsch Verlag 1987
(Original English edition: Alfred A. Knopf,
original Spanish Edition: Penguin Random House Colombia 1985)
The Uninhabitable Earth
David Wallace-Wells
Allen Lane/PRH 2019
State of Insecurity
Isabell Lorey
Verso books, 2014
(original German: Die Regierung der Prekären, Turia+Kant, 2012)
Kreation und Depression 
Juliane Rebentisch, Christoph Menke (Eds.)
Kulturverlag Kadmos 2010
Read: Postscript on the societies of Control, Gilles Deleuze)
In Catastrophic Times: Resisting the Coming Barbarism
Isabelle Stengers
Open Humanities Press, 2015
Protest. The Aesthetics of Resistance
Basil Rogger, Jonas Voegeli, Ruedi Widmer, Zurich University of the Arts, Museum für Gestaltung Zürich (Eds.)
Lars Müller, 2018
We especially recommend Zeynep Tufekci's essay "Making a Movement in the Age of Twitter", adapted from her 2017 Twitter and Tear Gas. The Power and Fragility of Networked Protest, Yale University Press, 2017)
Nu het nog kan.
Eva Rovers/Extinction Rebellion
De Bezige Bij, 2019
(covering some of the same material is This is Not a Drill, an Extinction Rebellion Handbook, Penguin, 2019)
Staying with the Trouble. Making Kin in the Chthulucene
Donna J. Haraway
Duke University Press, 2016
Volharden
Serge Daney
Octavo publicaties, 2011
Futurability. The Age of Impotence and the Horizon of Possibility
Franco "Bifo" Berardi
Verso books, 2019
Capitalist Realism
Mark Fisher
Zero Books/John Hunt, 2009
Capital Is Dead. Is This Something Worse?
McKenzie Wark
Verso books, 2019
In Praise of Love
Alain Badiou with Nicolas Truong
The New Press, 2012
Waar kunnen we landen?
Bruno Latour
Octavo publicaties, 2018
(Original French: Où atterrir? La Découverte, 2017; English translation Down to Earth, polity Press, 2018)
Support Structures
Céline Condorelli (Ed.)
Sternberg Press, 2009
Fantasies of the Library (intercalations 1)
Anne-Sophie Springer, Étienne Turpin
K Verlag/HKW 2015 (Out of print, 2nd ed. by MIT Press, 2018)
Publishing as Artistic Practice
Annette Gilbert (Ed.)
Sternberg Press, 2019
Facing Value. Radical perspectives from the arts
Maaike Lauwaert, Francien van Westrenen (Eds.)
Valiz with Stroom Den Haag, 2017
Brave New World
Aldous Huxley
First published Chatto & Windus, 1932
Public Domain everywhere but in the US
Oase magazine
Issue 72, Back to School
Johan Lagae, Bas van der Pol, Mechthild Stuhlmacher (Eds.)
NAi, 2007
On the New
Boris Groys
Verso books, 2014
(Written in Russian and translated by Groys to German as Über das Neue, Hanser, 1992)
How to Live Together
Roland Barthes
Columbia University Press, 2012
Commonism. A New Aesthetics of the Real
Nico Dockx, Pascal Gielen (Eds.)
Valiz, 2018
Oog in oog met Gaia
Bruno Latour
Octavo publicaties, 2017
2nd Ed. 2020
(Original French: Face à Gaïa. Huit conférences sur le nouveau régime climatique. La Découverte, 2015; English translation: Facing Gaia. polity Press, 2017)
Living a Feminist Life
Sara Ahmed
Duke University Press, 2017
When Species Meet
Donna J. Haraway
University of Minnesota Press, 2007
The Mushroom at the End of the World: On the Possibility of Life in Capitalist Ruins
Anna Lowenhaupt Tsing
Princeton University Press, 2015
All Possible Futures (Exh. Cat.)
Jon Sueda (Ed., cur.)
Bedford Press, 2014
http://allpossiblefutures.net
We recommend Max Bruinsma's essay An Ideal Design is Not Yet
Utopia (Human Space, stage 1)
Colin Ward
Penguin Education, 1974
…and on the side, possible methods for achieving a new society:
Education
Felicity Allen (Ed.)
Whitechapel Documents on Contemporary Art / MIT Press, 2011
Teaching to Transgress
bell hooks
Routledge, 2014
Unlearning Exercises. Art Organizations as Sites for Unlearning
Binna Choi, Annette Krauss, Yolande van der Heide, Liz Allan (Eds.)
Valiz/Casco, 2018
How to Generate Values in Young Children: Integrity, Honesty, Individuality, Self-confidence, and Wisdom
Susan Riley
National Association for the Education of Young Children, 1984
Teaching as a Subversive Activity
Neil Postman, Charles Weingartner
Delacorte Press, 1969
See also: Inquiry education
Pedagogy of the Streets: Porto 1977
Elvira Leite (Ed.)
Pierrot le Fou, 2019
The Detroit Printing Co-op. The Politics of the Joy of Printing
Danielle Aubert
Inventory Press, 2019
PS. Between designing and publishing this, George Floyd was brutally murdered by Minneapolis police. People in the USA started protesting nationwide, and they, too, are being brutalised by a fascist police force seeking to maintain a racist system. In retrospect, and in light of these developments, we might have shown a slightly different bookshelf, adding Frantz Fanon, Audre Lorde, Grada Kilomba or Gloria Wekker. One cannot say everything in one picture, but we should have done better. (We are also aware that structural and institutionalised racism is not only an American problem.)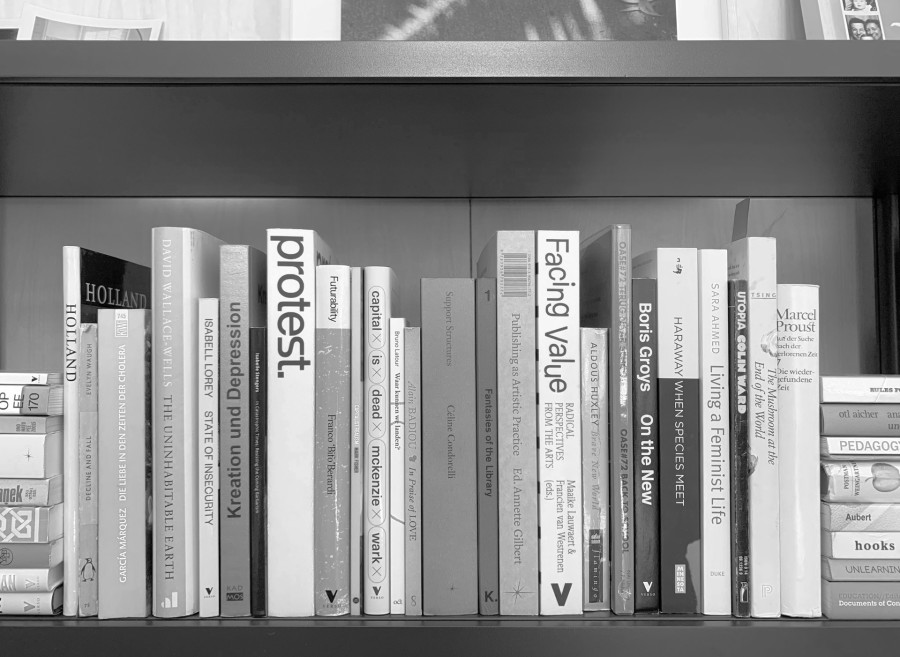 For Stroom Den Haag – 2020